Offices
This page provides you with practical information about our practice. It includes descriptions of our office location, including a map and directions, hours, appointment scheduling, insurance acceptance and billing policies.
Sun Valley Skin Center
3811 North Garden Center Way
Boise, ID 83703
Tel: 208-287-5525
Fax: 208-287-5530
Monday: 8:30 AM - 4:30 PM
Tuesday: 8:30 AM - 4:30 PM
Wednesday: 8:30 AM - 4:30 PM
Thursday: 8:30 AM - 4:30 PM
Friday: 8:30 AM - 4:30 PM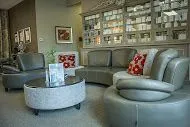 Appointments
We strive to make productive use of our patients time and do not double book our schedule, meaning that we strive to run on time.For this reason we have a 24 hour cancellation policy. If you no-show or cancel your appointment with less than 24 hours notice you may be subject to a $40 fee. This fee will be waived once, but you will be charged for the second late cancellation.
Insurance and Billing
We accept some traditional insurance plans. Please contact our office to verify acceptance of your plan. Qualifications for insurance coverage may differ due to the uniqueness of each procedure. We are participating providers with Blue Cross PPO, Regence Blueshield, Idaho Physicians Network, Aetna, and Cigna policies. If we are not in network with your insurance company we do offer a 20% off patient discount. We are NOT in network with Medicare, Medicaid, United Health Care, and Select Health.
Payment Options
We accept checks, cash or credit cards including Visa, Mastercard, American Express and Discover.
For cosmetic services we offer Alphaeon Credit